Insurance for Water Service Lines
Many of our water customers in Leavenworth have received advertisements in the mail and in the newspapers to purchase insurance to cover some or all of the cost to repair or replace the private portions of their water service lines. The insurance companies that have been soliciting and advertising this service are not associated with Leavenworth Waterworks.
Whether or not a homeowner or business should purchase insurance for private water lines is matter of individual choice. As with any type of insurance purchase, you should carefully research the insurance provider, the insurance coverage that is being offered, and the cost.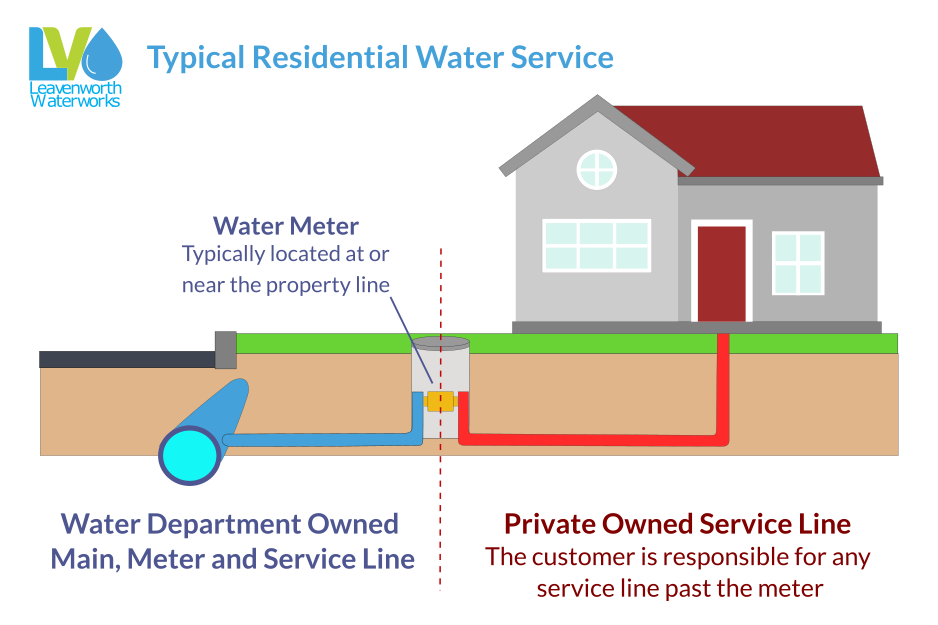 Property owners own and are responsible for the water service line that extends from the property line into the residence or business. Many business, schools, and government businesses that have private fire lines are also responsible for the maintenance, repair, and replacement of the fire lines. Leavenworth Waterworks owns and is responsible for the meter pit, meter assembly, and water line from the property line to the water main.
Water service lines that are made of copper tubing or high-density polyethylene are generally long lasting and have low risk of failure. Old water service lines in the city that are made of galvanized steel or cast iron are generally more susceptible to corrosion, leakage, or failure. We commonly encounter leaks and breaks in private water lines that are made of these materials. Property owners may want to consult with a licensed plumber about the age and type of water service line that they have and are responsible to maintain.